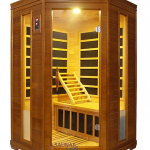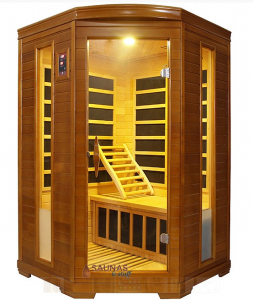 The sauna is becoming an increasingly popular home accessory, and many newly-constructed homes have saunas built in. If you are thinking about adding a sauna to your existing home, you want to make sure you get the most for your money.
Although home saunas require an up-front cost, you will find that they are a great investment in your home. Having a sauna in your own home could mean you spend less on spa treatments and more time relaxing in your own back yard or bathroom oasis. Adding a sauna could even increase the resale value of your home, but only if you know how to be a smart sauna shopper. Here are some things to consider when you start sauna shopping.
Quality Construction
Your home sauna is only as good as the materials it is made of. If those materials are cheap and shoddy, the constant heat and steam of the sauna environment will quickly take its toll.
Be sure to take some time to research which kind of wood you want based on look, price and quality. You want to buy the best quality sauna you can afford, keeping in mind that a good home sauna can last for decades.
Also keep in mind things like hinges and door hardware. Those doors will be opening and closing a lot, and they will need to be able to stand up to lots of moisture and steam. Buying a sauna with top quality construction means you will be able to spend more time relaxing and less time repairing hinges and driving screws.
Type of Wood
The type of wood in your home sauna is entirely up to you, but it is important to realize that some types of wood are quite fragrant, especially when wet.
Wood like cedar gives off a distinctive scent. That is great if you love that scent, but not so great if you find the scent rather strong. If you have a friend who owns a red cedar sauna, you might want to spend some time there and see if you like the scent. If so, go right ahead and order one for yourself. If not, you might want to consider a different kind of wood. You may find hemlock a more suitable option.
Adjustable Seating
This may seem like a small thing, but it can actually be quite important. If you plan to invite friends over to take a steam in your sauna, choosing a model with easily adjustable seating is a very smart idea. You want all of your guests to be comfortable as they relax and unwind in your little corner of paradise.
Traditional vs. Infrared
There are two types of saunas (traditional and infrared) and they both heat up in different ways, and can give you different experiences. The biggest difference between the two types of saunas is the intensity of the heat. A traditional dry sauna heats up to temperatures between 185 and 195 degrees, while an infrared model tops out between 120 and 150 degrees. A traditional sauna uses a stove to heat the air inside. When water is added to the coals on the stove, you boost the humidity inside the sauna. Infrared saunas, on the other hand, use infrared heating panels that emanate an even intensity of heat into the sauna. Keep these differentiating factors in mind when looking for a sauna for your home.
Saunas & Stuff Canada, has a wide selection of saunas available in different wood finishes. Browse our selection here.