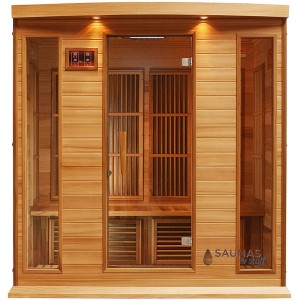 Unless you've shopped for an Infrared Sauna lately, you likely don't realize how many options are available and how you can customize your home sauna experience.
Whether to accommodate one person or several; stand alone, installed, or for corner assembly, you can build the relaxation haven of your dreams.
Here in Canada, Canadian Red Cedar has a rich aromatic scent and for most, it is the sauna wood of choice. However, certain people may have an adverse physical reaction to aromatic oils, shampoos with perfumes infused or certain herbs with natural aromas.
Hemlock is another popular wood because it releases the soothing odor of the great outdoors.
Whatever kind of wood you prefer, many amenities are standard, but you can adorn your sauna with a variety of upgrades.
Movable Backrests – depending on where you want to sit and how you wish to recline – these are extremely handy
Battery Powered Air Ionizers - these remove bacteria and odors from the air
Internal Lighting – sets the tone and setting
iPod and MP3 Input and Speakers– nothing's better than selecting from your own list of favorites to add to the overall ambiance
Cabinetry –beautiful woods and stunning designs make for infrared saunas that are essentially "furniture-worthy"!
Reading Lights – whether something inspirational or the latest New York Times Best Seller – you can enjoy your book in the peace and quiet
Wide Benches – for lounging
Easy Electrical Connections
Color Therapy Lighting with a Remote – set the stage with lighting that subtly changes or remains at a level most relaxing
Accessory Shelves for decor or to hold Beverages
Decorative Doors and Handles – create your one-of-a-kind masterpiece
Ultra-Low EMF Carbon Fiber Panel Heaters
The Canadian winters may be long and are sometimes brutal, but with the help of our custom and stock infrared saunas…you can weather the storms, and enjoy a charming respite year round.