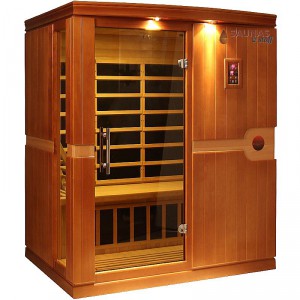 If you're tired of going to your local fitness center or spa and sharing the sauna with perfect strangers, it might be time to purchase a sauna for your home. As you consider the saunas for sale in our online inventory, it is important that you don't jump into the decision without thinking about what type of sauna best fits your home. There are multiple factors to consider, not the least of which is deciding whether you want to install an indoor or outdoor sauna.
Overriding Considerations
Whether you are leaning toward the indoor or outdoor sauna for sale, there are installation requirements that you should keep in mind that impact both types of saunas. The most important factors are water supply, electrical supply, and space to accommodate the new sauna. Limited space is often the primary factor impacting indoor saunas, while electrical and water supply lines often make or break the viability of outdoor saunas.
The Case for Indoor Saunas
Selecting the indoor sauna for sale that you've been looking at ensures you'll be able to use your new retreat any time of day, any day of the year. Additionally, it is common to convert an indoor bathroom (or a portion of that existing space) into a sauna. The benefit of an indoor unit compared to an outdoor unit is the ability to use existing electrical and water supply lines to support your indoor sauna. On top of that, you won't have to pour any new foundations to install a sauna in your home.
Keep in mind that an indoor sauna results in the loss of space in your home, the need for proper ventilation, and difficulty creating proper drainage for your spa. This doesn't mean that an indoor sauna is a bad idea, but rather, that you should keep these factors in mind as you design the space within your home that will house your indoor sauna.
The Case for Outdoor Saunas
Whether you live in a warm-weather climate or a cold-weather climate, that sauna for sale that you're considering could make a great addition to your backyard. Building an outdoor sauna adds to the theme of a larger backyard space, and prevents the loss of space inside your home. Additionally, you can build an outdoor sauna of any size or shape you desire. Rather than making drastic changes to an indoor space, you can easily add ventilation and drainage to accommodate your outdoor sauna.
Before you begin work on an outdoor sauna, read these few tips to help the process go smoother. For starters, evaluate the feasibility and cost of running water and electrical supply lines to your new sauna. Also, you'll need to pour a foundation and insulate the unit against the elements.
Cost Considerations
Generally speaking, indoor saunas are less expensive because you already have the space and supply lines available. An outdoor sauna requires greater construction and preparation costs. It is possible to cut down those costs by purchasing an outdoor sauna kit for sale. The prefabrication of sauna kits eliminates some of the construction costs associated with an outdoor unit.
Whichever direction you go, take the time to analyze the feasibility of installing a new sauna in your home. Indoor and outdoor units have different benefits and drawbacks, so weigh them carefully before purchasing that new sauna for sale.